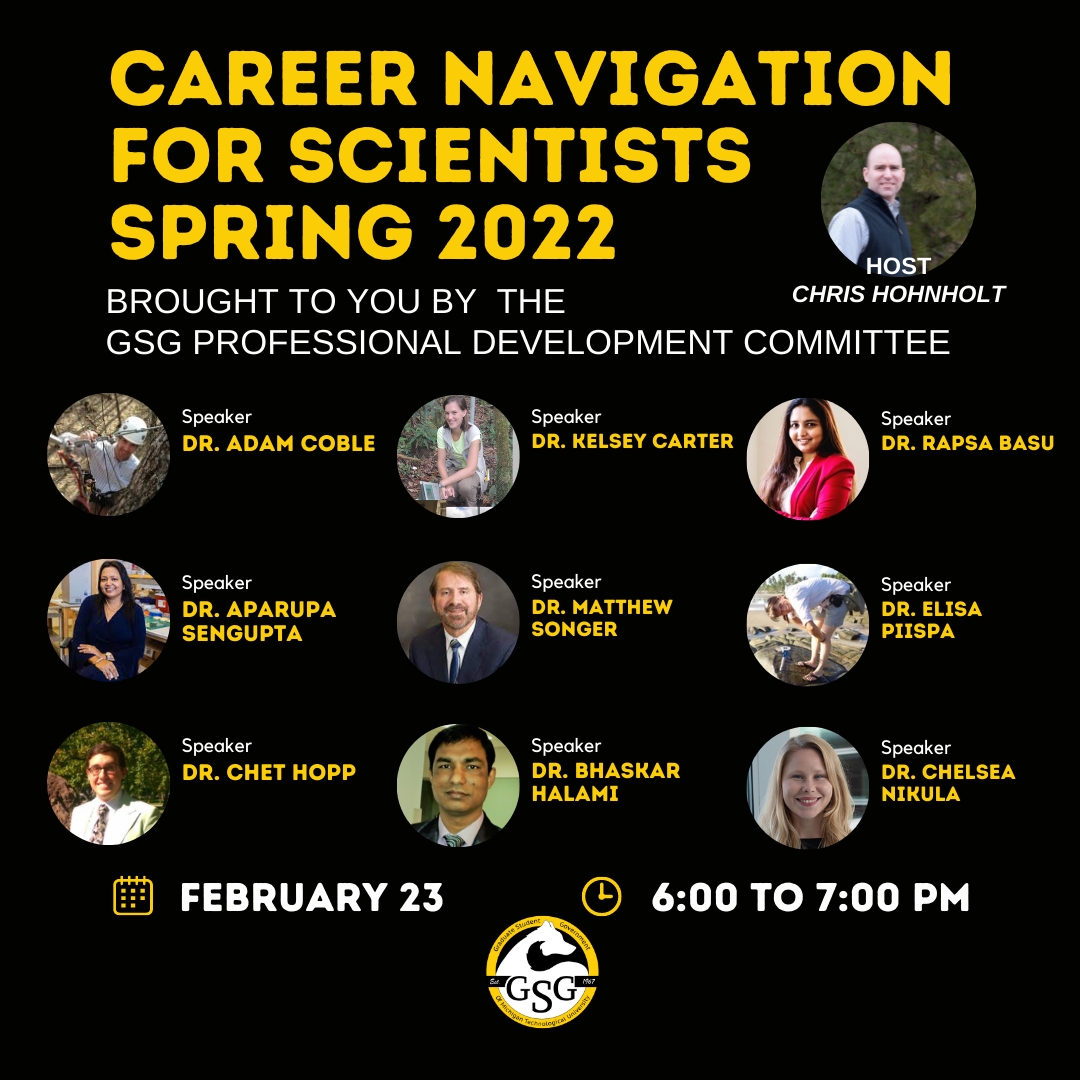 Career Navigation for Scientists – Part II
The Professional Development Committee at the Graduate Student Government and MTU's Career Services are collaborating to bring you a three part seminar dedicated to navigating careers for scientists. Panels will be made up of professionals across academia and industry within different departments and disciplines. These panels will feature brief speaker introductions, questions about their backgrounds, public Q&A, and breakout rooms for discipline specific questions.
The second panel on February 23rd, 2022 at 6 pm EST will feature MTU graduates from departments of forestry, biology, geology and mining, and chemistry. Our prestigious panelists include:
Dr. Adam Coble earned his PhD in Forest Science from MTU and is now the Manager of Forest Health and Monitoring for the Oregon Department of Forestry.
Dr. Kelsey Carter earned her PhD in Forest Science from MTU and now is Post-Doctoral Associate at the Los Alamos National Laboratory in the Department of Energy.
Dr. Rapsa Basu earned her PhD in Biochemistry and Molecular Biology from MTU and now is the Lead Scientist in Precision Immunotherapy at Humane Genomics.
Dr. Aparupa Sengupta earned her MS in Molecular Genetics and Biotechnology and her PhD in Biological Sciences from MTU, worked as a Biosafety Officer at Rutgers University, and is now a BioSafety officer at UofC-MERCED.
Dr. Matthew Songer earned a BS in Biological Sciences from MTU and an MD from University of Illinois, Chicago and is now an orthopedic spine surgeon and entrepreneur. He also earned a master of business administration from Northwestern University and taught at MTU and MSU.
Dr. Elisa Piispa earned a PhD in Geophysics from MTU, was an assistant professor at Yachay Tech University, and now is a Research Specialist and Lab Manager at the Paleomagnetism Laboratory of Institute of Earth Sciences at the University of Iceland.
Dr. Chet Hopp earned an MS in Geophysics from MTU, a PhD in Geophysics from Victoria University of Wellington, and is now a Postdoctoral Scholar at Lawrence Berkeley National Laboratory in the Energy Geoscience Division.
Dr. Bhaskar Halami earned his PhD in Chemistry from MTU, worked as a Senior Scientist at PPD in Thermo Fisher Scientific, and is now a Senior Scientist at Sirnaomics, Inc.
Dr. Chelsea Nikula earned her PhD in Chemistry from MTU and now works as a Higher Research Scientist in the National Physical Laboratory in the UK.
Don't miss this opportunity to discuss careers with these knowledgeable people!
Register here: https://mtu.libcal.com/calendar/gsg/scp2