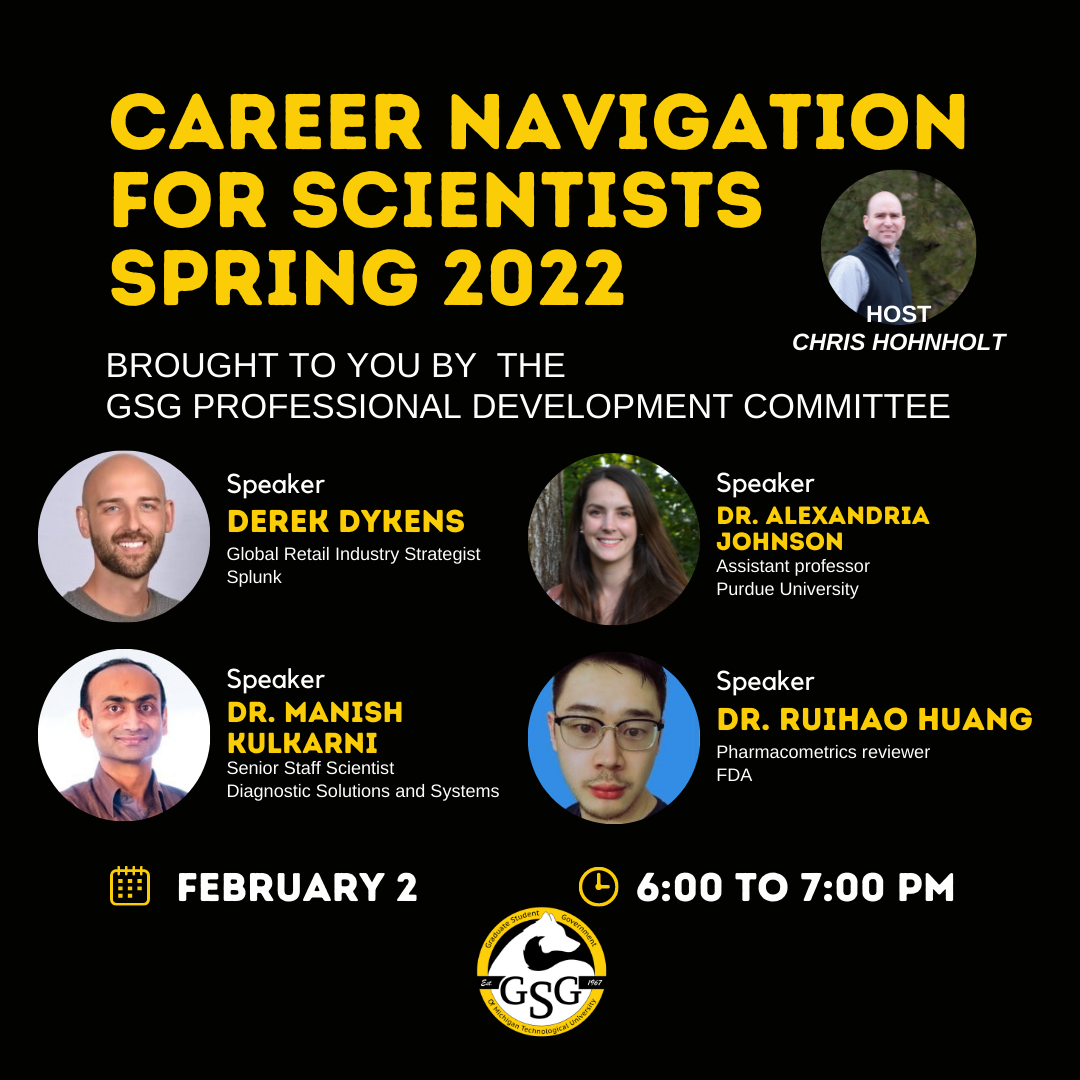 Career Navigation for Scientists – Part I
The Professional Development Committee at the Graduate Student Government and MTU's Career Services are collaborating to bring you a three part seminar dedicated to navigating careers for scientists. Panels will be made up of professionals across academia and industry within different departments and disciplines. These panels will feature brief speaker introductions, questions about their backgrounds, public Q&A, and breakout rooms for discipline specific questions.
The first panel on February 2nd, 2022 at 6 pm EST will feature MTU graduates from departments of Math, Physics, and Computing. Our prestigious panelists include:
Derek Dykens – graduated with a BS in computer system networking and telecommunications from MTU and is now a Global Retail Industry Strategist for Splunk.
Dr. Alexandria Johnson – graduated with a BS in Physics from MTU and went on to Purdue to get her PhD in Atmospheric Science. She is now an Assistant professor at Purdue University.
Dr. Manish Kulkarni – graduated with a MS in Physics from MTU and went on to Case Western Reserve to get his PhD in Biomedical Engineering. He is now working as a Senior Staff Scientist at Diagnostic Solutions and Systems.
Dr. Ruihao Huang – graduated with a PhD in applied mathematics from MTU and is now working for the FDA as a pharmacometrics reviewer. 
Don't miss this opportunity to discuss careers with these knowledgeable people!
Register here: https://mtu.libcal.com/calendar/gsg/scp1